Various infrequent postings on the stuff going through my head. I blog about life, music, films, books, science, science fiction, tv and stuff like that here. I blog about religion, Christianity, the bible, atheism and stuff like that there. In 2015 I'll be mostly posting stuff about mountains I've climbed and trips I've taken.
Saturday, April 19, 2008
156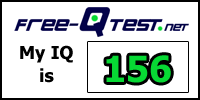 Free-IQTest.net -
Online IQ Test
Well, what can I say? Facebook thinks I'm only 138, and I was happy with that.
;o)